Would you like to attend a performance by pop choir EPIC? Check below where and when we will perform. We would love to see you there!
Balk TOPfestival – 15 October 2022
On 15 October, pop choir EPIC will travel to Rotterdam, together with other choirs from throughout the Netherlands, to take part in the Balk TOPfestival. A day full of beautiful performances by various choirs that will conclude with an exciting denouement of the winner in each category.
Koren laat je horen – 20 November 2022
On 20 November we will participate in the second edition of Koren laat je horen! This time it will take place in the WAT-hall in Tilburg. The exact programme is not yet known. It promises to be a musical day again!
Loonse kerstklokkenloop – 17 December 2022
This year the 10th edition of the Loonse kerstklokkenloop will take place. On this route through Loon op Zand, there is plenty to see and admire. We too will be making our contribution to this atmospheric event. Come and see!
Night University – 11 May 2023
Every year, Tilburg University transforms once into a night university. An evening full of workshops, lectures, activities and performances… including performances by pop choir EPIC! You can find us outside on the campus.
Tilburg on stage – 02 July 2023
After the success of the first edition of Tilburg on stage in 2022, this event will be continued! On 2 July 2023 all kinds of cultural associations will come together again to show their art. The exact programme and location will follow soon.
Follow our Facebook page and Instagram to stay up to date with all our performances and other fun news!
Every year we participate in: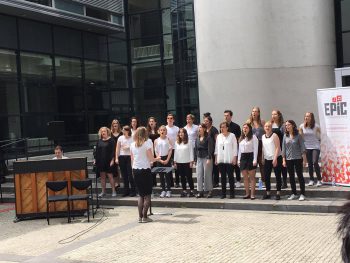 Night University (Tilburg University), Tilburg in koor/Koren laat je horen, Tilburg on stage and we perform at various Christmas events such as the Loonse Christmas Bell Run, Christmas celebration at Amarant and a Christmas celebration at RIBW. And last but not least… every year, we close our semester with an final concert organised by ourselves!
Last years we also performed at:
Opening of Spoorpark in Tilburg, opening of Good Mood restaurant in Tilburg, concert with L'Aventure Musicale, Breda Choir Picnic, University's got Talent, Tilburg Culture Night and Passion celebration in Opstandingskerk. Furthermore, every year we have a rehearsal day in which we follow a workshop. In previous years we did a workshop songwriting, song interpretation, vocal technique and body percussion.