Would you like to attend a performance by pop choir EPIC? Check below where and when we will perform. We would love to see you there!
Final concert – 24th of June 2022
Finally the time has come! On June 24th, after two years, pop choir EPIC will perform its final concert in the Jan van Besouw in Goirle. An evening full of polyphonic choral pieces and some solos. Come and see! Click here for tickets and info 
Tilburg on stage – 3 July 2022
Popchoir EPIC participates in Tilburg on Stage! On Sunday afternoon, July 3rd, we will be present at this cosy and summery festival in the Schouwburg Concertzaal in Tilburg. It's our turn in the concert hall at 16:50. Here we will perform a piece of our polyphonic pop repertoire! Entrance to Tilburg on Stage is free and there's a nice terrace in the festival centre, so come and join us for a great afternoon! More information about the festival: https://www.art-fact.nl/tilburg-on-stage.html
Balk TOPfestival – 15 October 2022
On 15 October, pop choir EPIC will travel to Rotterdam, together with other choirs from throughout the Netherlands, to take part in the Balk TOPfestival. A day full of beautiful performances by various choirs that will conclude with an exciting denouement of the winner in each category.
Follow our Facebook page and Instagram to stay up to date with all our performances and other fun news!
Every year we participate in: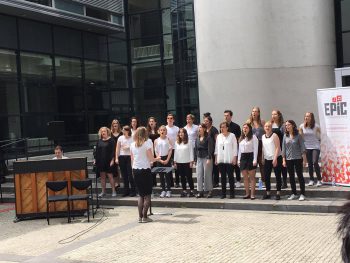 Night University (Tilburg University), Tilburg in Choir and we perform at various Christmas events such as the Loonse Christmas Bell Run, Christmas celebration at Amarant and a Christmas celebration at RIBW.
Last years we also performed at:
Opening of Spoorpark in Tilburg, opening of Good Mood restaurant in Tilburg, concert with L'Aventure Musicale, Breda Choir Picnic, University's got Talent, Tilburg Culture Night and Passion celebration in Opstandingskerk. Furthermore, every year we have a rehearsal day in which we follow a workshop. In previous years we did a workshop songwriting, song interpretation, vocal technique and body percussion.