Conductor
Since September 2016, Popkoor Epic has been conducted by Marjon Dries. She would like to introduce herself:
"By singing in vocal groups and conducting various pop choirs, I express my great passion for polyphonic music. I love nothing more than sharing this passion with people and guiding vocalists in their development. In 2013, I graduated from the conservatory in Tilburg, since then I have been active as a conductor, vocal coach and singer. I really enjoy making music with different people at all levels and everything that comes with it. My aim is, at least for myself, but preferably for everyone, to give people goosebumps and to see both singers and audience go home bouncing. "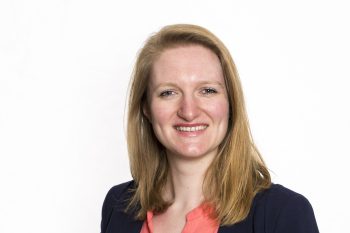 Pianist
Since February 2020, Pop Choir EPIC has been accompanied on piano by Marijn van Riel. He would like to introduce himself to you:
"As a little boy I started taking piano lessons and since then I have started to understand more and more the fun of making music. This has led me to study for Music Teacher with piano as main subject. I have always had the most fun at accompanying others on the piano, mainly singers. I find looking for functional harmonies, finding a suitable structure and following the singers super fun challenges.  It is therefore super nice to be sitting on the piano stool and be returned with such a great sound from the singers. I think it is very cool to throw in appropriate accompaniment with piano to be part of the beautiful sounds of pop choir EPIC. Creating a beautiful musical product together with other people really energizes me. "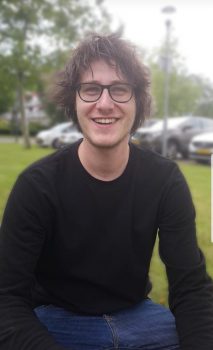 Board
Since September 2019, the board of Popkoor EPIC has consisted of Eline (chairman, center), Britt (secretary, left) and Eva (treasurer, right). We have been singing with Popkoor EPIC for a long time and this year we have decided to take up the challenge of being the board. Until now we are having a great time!
In addition to attending and singing along to the weekly rehearsals, the three of us arrange everything with regards to performances, open rehearsals, rehearsal days, and the annual final concert. In addition, we also work on the less visible things, such as the rehearsal space and subsidies. We are always open to feedback: you can always contact us with questions and input info@popkoorepic.nl.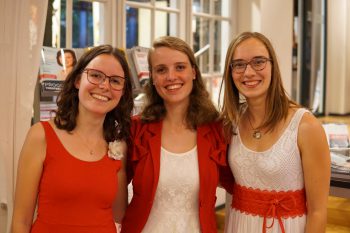 Vocal groups
Our choir has three vocal groups: the sopranos, the mezzo-sopranos and the altos. Together they sing polyphonic and ensure that every performance goes well.
Sopranos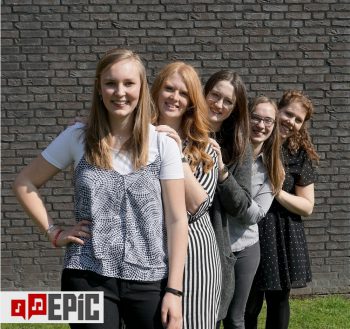 These ladies belong to the vocal group of our choir singing highest. This year the group of sopranos has expanded considerably. The sopranos this year include: Jade, Danielle, Gaby, Britt, Inge, Namara, Gitta, Zoë, Sasha and Eva.
Mezzo-sopranos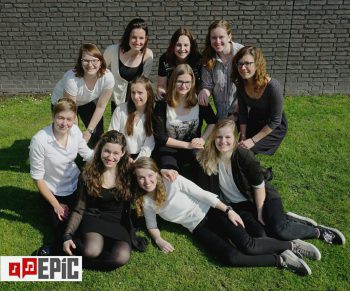 These are the mezzo-sopranos of Popkoor EPIC! They are the middle voice group and also the largest group. Together they always contribute to a beautiful performance of the choir. This academic year, the mezzo-sopranos consist of Kim, Anna, Michelle, Marissa, Maria, Vera, Eline, Lauren, Romy, Ashley, Hanna, Katarina and Danielle.
Altos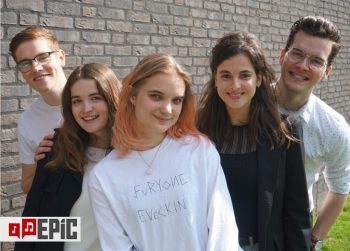 The altos belong to the voice group singing lowest and always give everything to make it beautiful. This year, the altos consist of Mitchell, Maarten, Laura, Nina, Dimitra and Caroline.