Popchoir EPIC has grown a lot in recent years. Despite the fact that we have not always been able to rehearse live and have not been able to perform much in 2020 and 2021, we continue to work hard on our repertoire! Like our Facebookpage to stay up to date with all our performances and other fun news!
In 2019 EPIC performed at: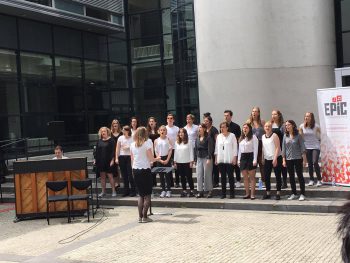 L'Aventure Musicale – February 9 and 10, 2019
Koffieconcert Amarant – February 16, 2019
Tilburg in Koor – June 9, 2019
Opening Spoorpark – June 22, 2019
Good Mood – September 15, 2019
Night University – October 3, 2019
BALK TOPfestival – November 9, 2019
Kerstoptredens Amarant – December 14 and 21, 2019
Kerstklokkenloop Loon op Zand – December 15, 2019
Kerstviering RIBW – December 18, 2019
Previous years we also participated in:
Breda Choir Picnic, University's got Talent, Tilburg Culture Night and The Passion Celebration in the Opstandingskerk. Furthermore, every year we have a rehearsal day in which we follow a workshop. In previous years we did a workshop songwriting, song interpretation and body percussion.